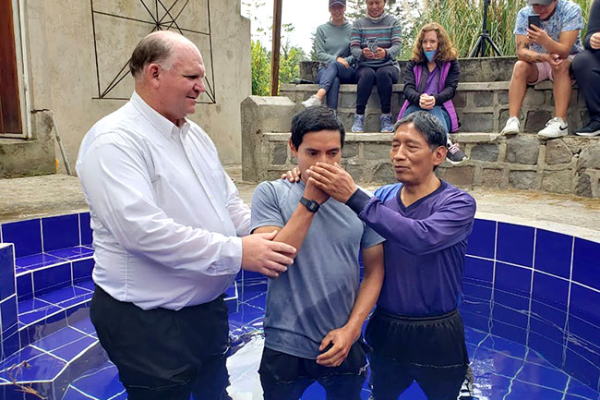 Bursting at the Seams
ECUADOR —
Anger and abusive behavior characterized
Luis's
life before Christ. But when his family stood at the brink of destruction, he sought help at Crossworld worker Dave's church. He met Jesus and his whole life changed. Soon Luis was baptized in front of the entire church.
"I baptize you in the name of the Father, Son, and Holy Spirit,"
Dave said as he raised Luis out of the water
to the sound of loud cheers from his new church family (see photo above).
Luis isn't the only one whose life has been changed — 15 others recently trusted Christ and were baptized with Luis.
The church was bursting with joy about what God was doing in their midst. But there was a problem: They were also bursting at the seams, no longer able to fit in their church building.
During two years of lockdowns and restrictions, many churches in Ecuador disbanded completely. But not Dave's church.
"We are seeing a massive revival among our people, with new visitors arriving almost every week," Dave said. "The darkness and isolation of quarantine is giving way to the light of the gospel in ways we couldn't have imagined."
The church has been meeting outside since 2020 — first because of the restrictions and now because of space. The church has doubled in size in the last three years.
Dave and the church began to pray, and in less than a year, God provided over $140,000 to purchase a neighboring plot of land and begin building. The new multi-purpose space will provide a home for people like Luis as the church continues to grow in number and in faith.

This is one of the many ministries you support when you partner with Crossworld. Thank you to those of you who gave to make this church building a reality.
To support other Crossworld projects, visit

crossworld.org/projects

.
The people in this story are real, but some names have been changed to protect privacy.